The company conducts comprehensive evaluation of management personnel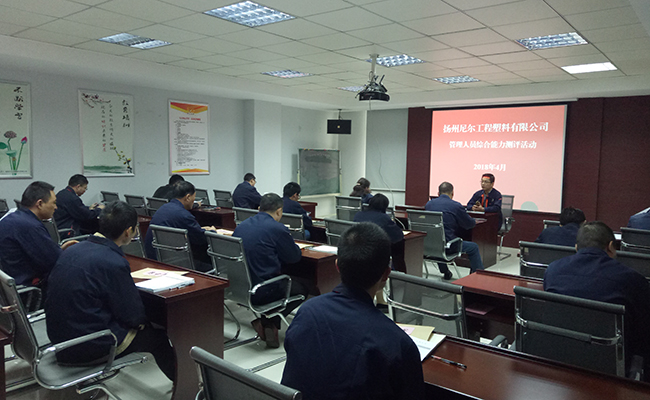 In order to continuously improve the management level of the company's middle management personnel, strengthen their own learning and cultivation, in order to improve their own quality and continuously improve their working methods and methods to achieve the purpose of assessment, incentive and restraint. Recently, the company organized the evaluation of the comprehensive ability of middle management personnel.
In order to do a good job in this assessment, the company issued the "Notice on the evaluation of middle management personnel", and established a leadership team led by Zhang Aichen, chairman and general manager of the company. All middle management personnel are in accordance with procedures such as employee review, department (workshop) mutual evaluation, assessment level determination, and result feedback. The evaluation grades are divided into five categories: excellent, good, average, qualified, and unqualified.
According to the daily work performance, the evaluation conducted an objective, fair, true and prudent evaluation of the 20 small indicators of the middle management personnel's moral cultivation, work attitude, work ability, job performance and job competence in an anonymous manner.
After the evaluation, the company's leaders talked with some employees, in-depth understanding of the work of middle-level managers, exchanges on the development of the company, and conducted face-to-face communication on issues of concern to employees.
At the summary meeting of the evaluation results, the chairman and general manager Zhang Aichen first analyzed the company's current situation, advantages and challenges. The company emphasized that the company is currently in a critical period of development, and all tasks require further transformation of all middle management personnel. Thoughts, renewal concepts. He urged managers at all levels to establish a sense of urgency, change the work style of the previous step-by-step work, be prepared for danger in times of peace, establish a sense of innovation, innovate in management, systems and methods, and benefit from innovation; establish a sense of ownership and win-win, and continue to develop Neil The spirit of selfless dedication, care for the company's production and management, and the Neil's breathing and common destiny; establish a sense of democracy, especially at all levels of management, to fully promote democracy, widely listen to opinions, strengthen communication, strengthen the transparency of work, and enhance The scientific and rational decision-making.
Finally, Zhang Aichen hopes that all management personnel should always remember the initial intention of safety and service, and bear in mind the mission of making Neil stronger and better, and make unremitting efforts in promoting the company's sustained and healthy development.
url:http://en.yznier.cn/news/511.html
Key word: